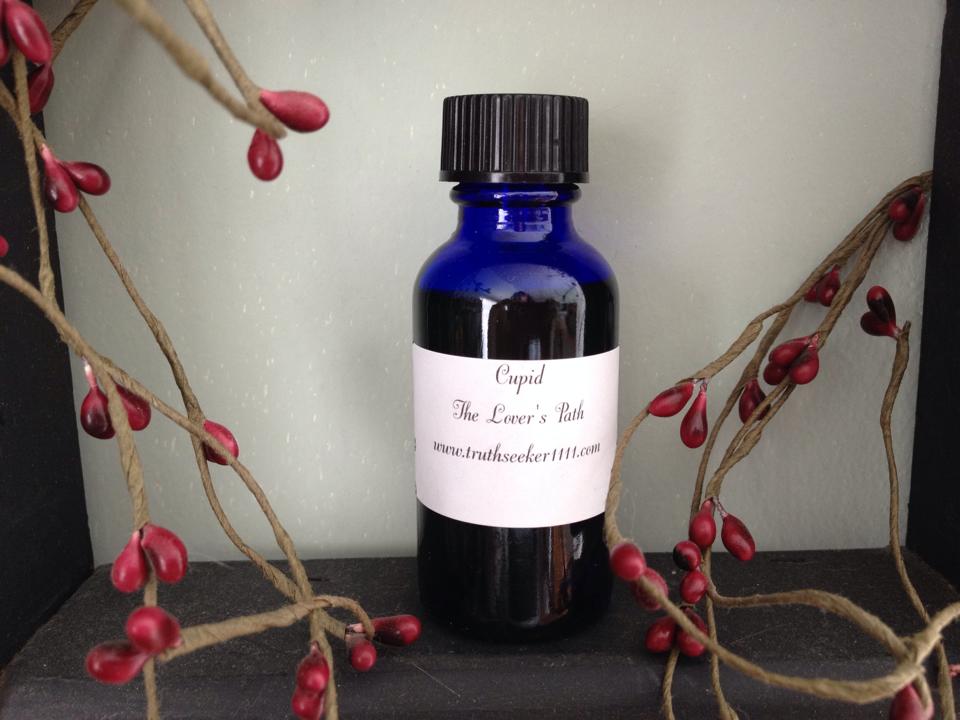 Cupid, The Lover's Path $33.33:
The artistry of Perfume encapsulating the themes of long ago Victorian Era blended in with the magickal workings of conjuring and alluring to bring your love to you. Highly sensual, romantic and steamily scented. Anointed with a dash of holy water to keep your love pure. Amethyst Crystal dropped into the bottle, the crystal of transformation. This stone is associated with Venus and the number 3.
Freshly made with love and passion. Limited Quantities. Once they are gone, they are gone! Created during the new New Moon with the highest intentions of love. Comes in a 1 ounce beautiful Blue Cobalt bottle.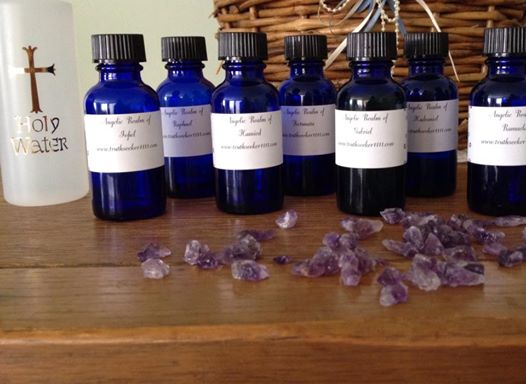 The Angelic Realm Collection of Perfume . Each 1 ounce beautiful blue cobalt perfume bottle comes with an amethyst crystal inside, blessed and anointed with holy water. All perfumes are made fresh.
$33.33 for each bottle and $270 for The Collection.
Featuring:
Fortunata, seek his kingdom and his righteousness, and all these things shall be yours as well: essence of Riches! honeysuckle, mint, patchouli, bergamot, cinnamon, almond, benzoin and snakeroot.
Sandalphon, love is the key to all knowledge, wisdom and power. Dwell deep in this love, and you will see as God sees: essence of Power! vanilla, lemongrass, carnation, ginger and rosemary.
Hadraniel, to love for the sake of being love is human, but to love for the sake of loving is angelic: essence of Love! rose, vanilla, clove, sarasparilla, snakeroot and sugar.
Raphael, as soon as you trust yourself you will know how to live: essence of Healing! cinnamon, frankincense, sandalwood, floral and roses
Ramaela, there is joy in the presence of the angels: essence of Joy! The scent of laughter. white musk, greentea, aloe, lemon, florals, rose, spices, vanilla, clove, sweet black musk and sandalwood.
Hamied, open your heart to receive gifts of intense love: essence of Miracles! sweet black musk, vanilla, cloves, sandalwood, fruity, dark incense, blossoms and forestry smoke.
Iofiel, everything divine is natural, beautiful and eternal: essence of Beauty! honeysuckle varieties, orange blossom, amber, resins, plum, mango, melon, apple, neroli and a few drops of something glamourous to entice!
Gabriel, I know you seek Jesus who was crucified. He is not here for he has risen: essence of Resurrection! frankincense, rosemary, lavender, neroli and verbena.
Michael, for he will give his angels charge over you to guard you in all your ways: essence of Protection! Violet, Snakeroot, Rose, Angelica, Frankincense, Drop of "11" Secret Formula.
Please request what scent you would like and leave in the paypal message center, unless you are purchasing the collection. The collection does not include Cupid.